Editors' Note: This is Chapter 1 of a six-chapter expose by ProPublica, an independent, nonprofit "newsroom" that produces investigative journalism "with moral force." The treatment of children in Tennessee reported in this article–of whatever race–by state officials is almost unimaginable. But, then, the nation engaged in separating children from families as public policy at the southern border. The forced separation of indigenous children from their families in Canada, Australia, and the United States has a reflection in local governments.  
VoxFairfax will publish chapters 2-6 over the next five weeks.  
By Meribah Knight, Nashville Public Radio, and Ken Armstrong, ProPublica
Black Children Were Jailed for a Crime That Doesn't Exist. Almost Nothing Happened to the Adults in Charge.
Judge Donna Scott Davenport oversees a juvenile justice system in Rutherford County, Tennessee, with a staggering history of jailing children. She said kids must face consequences, which rarely seem to apply to her or the other adults in charge.
Chapter 1: "What in the World?"
Friday, April 15, 2016: Hobgood Elementary School, Murfreesboro, Tennessee
Three police officers were crowded into the assistant principal's office at Hobgood Elementary School, and Tammy Garrett, the school's principal, had no idea what to do. One officer, wearing a tactical vest, was telling her: Go get the kids. A second officer was telling her: Don't go get the kids. The third officer wasn't saying anything.
Garrett knew the police had been sent to arrest some children, although exactly which children, it would turn out, was unclear to everyone, even to these officers. The names police had given the principal included four girls, now sitting in classrooms throughout the school. All four girls were Black. There was a sixth grader, two fourth graders and a third grader. The youngest was 8. On this sunny Friday afternoon in spring, she wore her hair in pigtails.
A few weeks before, a video had appeared on YouTube. It showed two small boys, 5 and 6 years old, throwing feeble punches at a larger boy as he walked away, while other kids tagged along, some yelling. The scuffle took place off school grounds, after a game of pickup basketball. One kid insulted another kid's mother, is what started it all.
The police in Murfreesboro . . . had secured juvenile petitions for 10 children in all who were accused of failing to stop the fight.
The police were at Hobgood because of that video. But they hadn't come for the boys who threw punches. They were here for the children who looked on. The police in Murfreesboro, a fast-growing city about 30 miles southeast of Nashville, had secured juvenile petitions for 10 children in all who were accused of failing to stop the fight. Officers were now rounding up kids, even though the department couldn't identify a single one in the video, which was posted with a filter that made faces fuzzy. What was clear were the voices, including that of one girl trying to break up the fight, saying: "Stop, Tay-Tay. Stop, Tay-Tay. Stop, Tay-Tay." She was a fourth grader at Hobgood. Her initials were E.J.
The confusion at Hobgood — one officer saying this, another saying that — could be traced in part to absence. A police officer regularly assigned to Hobgood, who knew the students and staff, had bailed that morning after learning about the planned arrests. The thought of arresting these children caused him such stress that he feared he might cry in front of them. Or have a heart attack. He wanted nothing to do with it, so he complained of chest pains and went home, with no warning to his fill-in about what was in store.
Also absent was the police officer who had investigated the video and instigated these arrests, Chrystal Templeton. She had assured the principal she would be there. She had also told Garrett there would be no handcuffs, that police would be discreet. But Templeton was a no-show. Garrett even texted her — "How's timing?" — but got no answer.
Instead of going to Hobgood, Templeton had spent the afternoon gathering the petitions, then heading to the Rutherford County Juvenile Detention Center, a two-tiered jail for children with dozens of surveillance cameras, 48 cells and 64 beds. There, she waited for the kids to be brought to her.
In Rutherford County, a juvenile court judge had been directing police on what she called "our process" for arresting children, and she appointed the jailer, who employed a "filter system" to determine which children to hold.
The judge was proud of what she had helped build, despite some alarming numbers buried in state reports.
Among cases referred to juvenile court, the statewide average for how often children were locked up was 5%.
In Rutherford County, it was 48%.
Rutherford County Locked Up Kids in Almost Half of Cases
Tennessee used to publish statistical reports on juvenile courts statewide. For the last year available, 2014, we compiled reports for all 98 courts. Rutherford County locked up kids in 48% of its cases, eclipsing every other jurisdiction. (The graphic below shows the top 50 courts.) The state stopped publishing this data even as it figured prominently in a lawsuit against Rutherford County.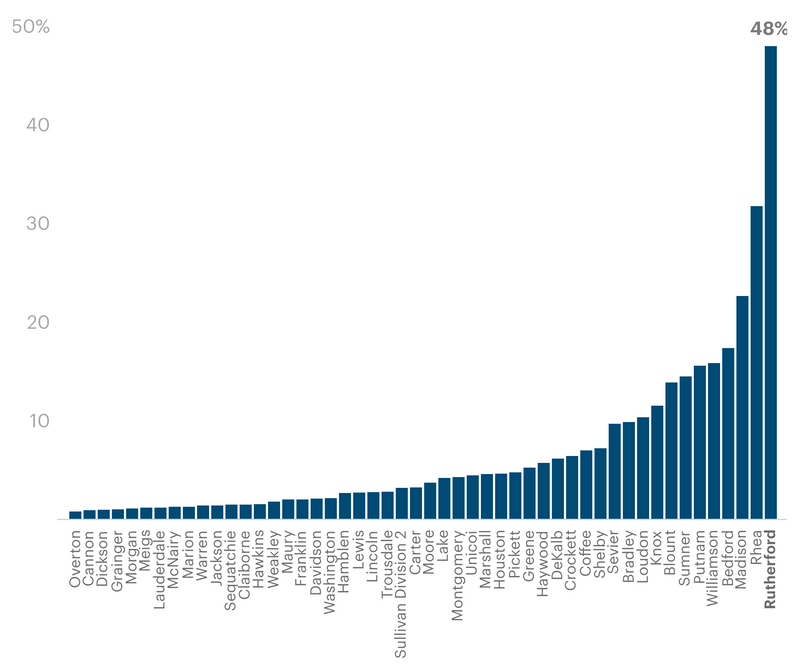 ---
---
Categories: crime and punishment, EDUCATION, Issues, Local, police