Brief Cases is published occasionally to update information on previously published articles and/or to add comment upon them. Sometimes the content will be new, particularly as the material is deemed to be of note.
ENDING GAY EXORCISMS
Editors' Note: VoxFairfax has discussed conversion therapy before, and is pleased to see that this scourge will be ending in the Commonwealth. See links for previous pieces: https://voxfairfax.com/2018/10/14/religion-politics-and-public-policy/ and https://voxfairfax.com/2020/02/03/brief-cases-4/.
The Virginia General Assembly–making history on many fronts this session under Democratic control–is moving in new areas as well. The latest: to ban the discredited practice of sexual conversion therapy for LGBTQ children. It also created a transgender school policy and repealed a ban on gay marriage.
Conversion therapy is a practice used to try to change sexual orientation or gender identity. The Virginia Senate voted to ban licensed therapists and counselors from subjecting minors to the practice. The ban does not apply to non-health professionals such as religious leaders. It specifically excludes "counseling that provides acceptance, support and understanding of a person or facilitates a person's coping, social support and identity exploration and development." Several Republican lawmakers joined Democrats in passing the measure. The bill now heads to Gov. Ralph Northam, who is expected to sign it into law.
The American Psychological Association has said conversion therapy is not based in science and is harmful to mental health. Many people who have been through it say it deepened feelings of depression and increased thoughts of suicide.
♦
CRIMINAL 'JUSTICE': 7+ YEARS FOR PAROLE VIOLATIONS, NO HELP WITH DRUG PROBLEM
A Wise County resident was sentenced to prison Jan. 24 for his fourth violation of parole. The 38-year-old was sentenced to seven years and six months, as a result of absconding from supervision, failing to appear in court, and failing to maintain communication with his probation officer.
The man was convicted in 2013 for distributing a Schedule II drug and two felony counts of child neglect. He had finished serving his original sentence imposed in late 2014. His suspended sentence was conditioned upon completing five years' probation. In June 2015, he was charged with failing to complete a required 50 hours of community service. In March 2017, his probation officer filed a charge alleging violation of his probation by violating a protective order, failing to cooperate with probation supervision and failing to disclose his residential address. In April 2018, the probation officer filed a violation charge alleging that he again violated probation. The fourth violation resulted from the probation officer alleging that Sexton tested positive for methamphetamine in late 2018, along with his absconding.
Between the lines it appears that this individual was in need of drug treatment and counselling instead of a repeated record of parole violations and imprisonment.
♦
CHARITY MELTS HATE
A man sent anti-Muslim tweets to a political candidate here in Virginia. He was not expecting the response he received: The Muslim candidate donated to the man's GoFundMe campaign to help cover his medical debt.
Qasim Rashid, a Democrat running for Congress, said a conservative constituent sent him "deeply hurtful anti-Muslim tweets" last week, which included a meme that falsely claimed that Islam promoted violent acts, such as rapes and beheadings.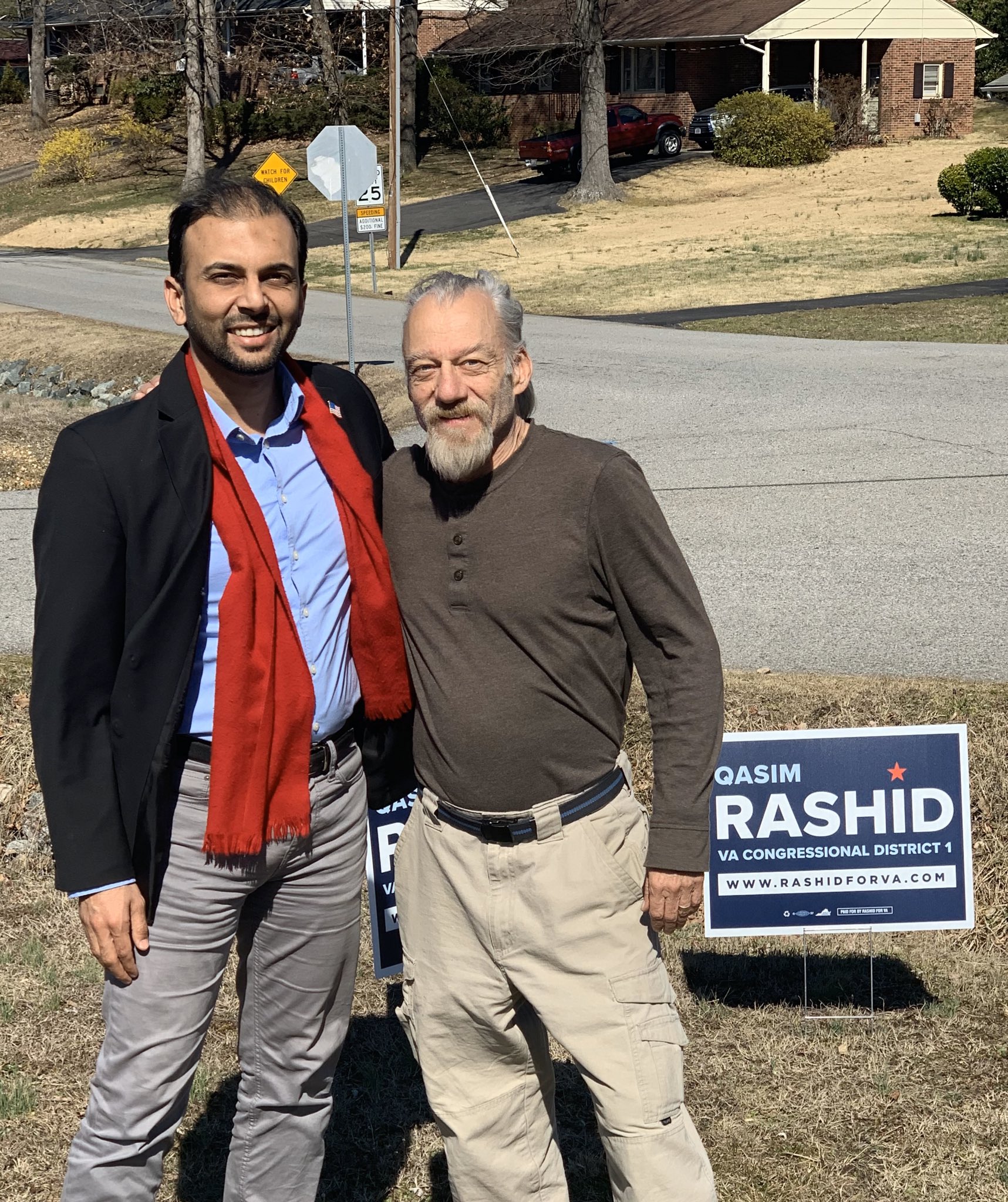 Rashid, a Muslim immigrant from Pakistan who is seeking the House seat of Republican Rep. Rob Wittman, said in his social media posts that when he learned of the individual's difficulties, he donated to help cover the couple's "crushing medical debt." Rashid said on social media that he later received a "thoughtful" and "compassionate" apology from the man, who asked that the aspiring lawmaker visit him, which he did.
See link for a CBS Evening News video report, as covered by Blue Virginia: https://bluevirginia.us/2020/03/video-amazing-inspiring-story-with-va01-democratic-candidate-qasim-rashid-highlighted-by-cbs-evening-news.
♦
---
---